History of Construction and Use:
The length of the cardo maximus, as the principal north-south roadway of the Caesarean colony of 44 B.C. has been excavated to the north of the propylaea for approximately 107 m. This roadway has been named the Lechaion Road based on the description of Pausanias (2.3.2-3) of the 'direct road to Lechaeum.'
From the Augustan period there was an important monumental arch at the place where the forum meets the roadway. A series of steps leads down from the monumental arch to the north to the level of the roadway itself. Although unpaved in the Augustan period, and open to wheeled traffic, the roadway was paved with hard limestone slabs in the time of the emperor Vespasian and was limited to pedestrians. At that time the thoroughfare included the road itself as well as both sidewalks and colonnades of shops to east and west.
Other elements of the cardo maximus have been discovered to the south of the forum where there are portions of the paved roadway, both within the Hellenistic South Stoa and immediately to its south. The Lechaion Road originally extended 3000 m north from the area of the forum of the city to the Gulf of Corinth. In the planning of the Caesarean colony of 44 B.C., the cardo maximus formed the central artery through the colonial plan. It was also one of the principal north-south lines of the Roman agrimensores' plan for the urban and rural elements of the colony.
Pictures from the Lechaion Road:
Testimonia:
Bibliography:
H.N. Fowler and R. Stillwell, Corinth I, Introduction, Architecture, Topography. Cambridge, Mass. 1932, 135-158.


Figure 1: Restored plan of the Lechaion Road in Corinth, A.D. 150
Click on the figures to enlarge.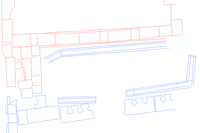 Figure 3: Detail of the Roman latrine east of the Lechaion Road

Figure 2: Actual state of the Lechaion Road